Europe emigrant flow exceeds 1 lakh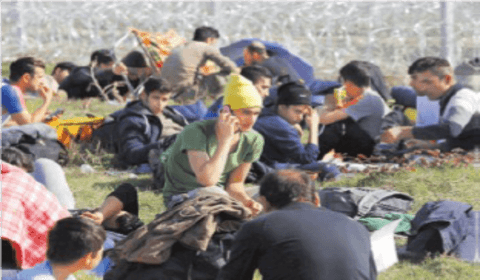 Europe emigrant flow exceeds 1 lakh
Around 1,00,000 expatriates and migrants have crossed the Mediterranean to Greece and Italy so far this year and 413 have lost their lives trying, the International Organisation for Migration (IOM) head-quartered at Geneva, Switzerland said today. Since the beginning of the year, as of today, 102,547 people had arrived in Greece, while another 7,507 had arrived in Italy, IOM said. IOM spokesman Itayi Viriri told reporters that last year, 1,00,000 mark was only reached during summer.
He said that, out of people who had died trying to reach Europe, 321 had ceased on the route to Greece. Not everyone is able to move on. Thousands of migrants have been left stranded in Greece after Macedonia abruptly closed its border to Afghans, creating a crisp impediment as European countries scrambled to respond to the continent's expatriate crisis. Some 4,000 people remained stranded on the frontier on Tuesday as even the crossing of Syrians and Iraqis, who are allowed to pass, slowed considerably, Greek police said.
According to IOM, approximately 20,000 Afghans have arrived in Greece by sea so far this year, along with roughly 12,000 Iraqis and 31,000 Syrians too. UN expatriate agency spokeswoman Karin de Gruijl slammed the Macedonian move and "all of these measures aimed at keeping expatriates out, (which) are causing numerous hardships for the people arriving."